Additional COVID-19 Guidance For Personal Care Services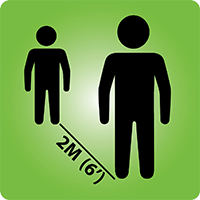 Maintain a 2 metre distance from others.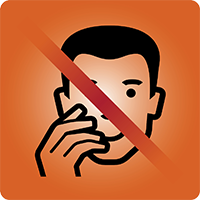 Avoid touching your eyes, nose, and mouth with unwashed hands.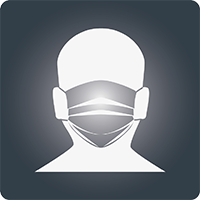 Wear a medical or non-medical mask (e.g, cloth) in public settings.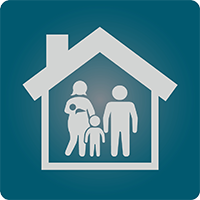 Limit close contacts to your household only.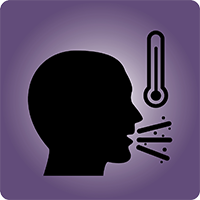 Stay home and do not go to work or school if you are sick.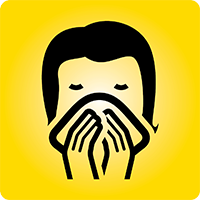 Cover mouth and nose with a tissue or use the inside of your elbow when you cough or sneeze.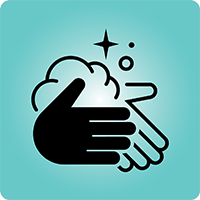 Wash your hands with soap and water thoroughly & often.
Main Page Content
Speak with your area Public Health Inspector if you have any questions, or call our helpline at 519-258-2146 ext. 4475.
*This information is subject to change and is current as of November 16, 2020
Personal Care Settings or Personal Service Settings include hair, barber, manicure and pedicure salons, esthetic clinics, tattoo parlours, and premises that provide ear, body piercing, electrolysis, micro-blading, and/or micro-pigmentation. Each personal service setting is unique and not all recommendations may apply. For more general information on personal service settings, refer to your profession-specific guidance or visit WECHU's Personal Service Settings webpage.
To support safe operations in personal service settings, operators must also abide by:
Visit WECHU's Local Pandemic Status page for updates on Windsor-Essex's status level, links to Ministry of Ontario guidance, and a summary of current provincial requirements and local enhanced measures.
COVID-19 Response Framework: Orange – Restrict Level
Oxygen bars, steam rooms, saunas, whirlpools, bath houses, other adult venues, hot tubs, floating pools and sensory deprivation pods closed (some exceptions)
Services requiring removal of face coverings prohibited
Change rooms and showers closed
Require screening of patrons (for example, questionnaire)
Require contact information from all patrons
Safety plan available upon request
Windsor-Essex County Health Unit – Specific Enhanced Measures
No personal care services that require the removal of a mask or face covering.
Locker rooms, change rooms, and showers must be closed, except a washroom or a portion of business that is used to provide first aid.
Whirlpools, baths, floating pools or sensory deprivation pods must be closed, unless they are used for a therapeutic purpose prescribed by, or administered by a regulated health professional.
COVID-19 Safety Plan
For health unit regions in "Yellow-Protect" status or higher, a COVID-19 safety plan must be completed for personal care services and provided to the Health Unit upon request.
Visit the COVID-19 Workplace Safety Plan Requirements webpage for details and templates for download.
Non-Medical Face Masks, Face Coverings, and Eye Protection
The Section 22 Order issued by Dr. Wajid Ahmed, the Medical Officer of Health: Face Coverings and Hand Sanitizer in Commercial Settings and Ontario's COVID-19 Response Framework: Keeping Ontario Safe and Open mandates the wearing of face coverings and the availability of hand sanitizer in commercial establishments in Windsor-Essex, including personal service settings. Municipalities and organizations have created further regulations through the development of face-covering policies. Several local municipalities have included further spaces where masks are required by passing by-laws.
Staff and clients must wear a face covering or non-medical face mask at all times.  Ask clients to bring their own face covering or provide disposable masks in your establishment.

In the Yellow-Protect level, personal care services that require the removal of a mask or face covering are not permitted. For example, upper lip waxing, lip piercing, nose piercing.
Train staff on the proper use, removal and disposal of non-medical masks.
Non-medical masks do not replace other important public health measures, such as physical distancing, proper hand hygiene, coughing and sneezing into a tissue or sleeve and staying home when feeling ill.
If staff wear gloves to provide service, it is important to change gloves when switching tasks and after attending to each client. Wash hands before putting on and after removing gloves.
Consider the use of other personal protective equipment such as eye protection (e.g.,face shields, visors, goggles). These items should be labelled with staff names and should not be shared. Wearing eye protection does not replace the requirement to wear masks. Pleaser review our fact sheet about acceptable eye protection for workers.
Signage and Screening
Every patron/customer/staff member that enters the facility/workplace must be screened for COVID-19 symptoms and risk factors. There are two different types of screening:
Passive screening: people assess their own risk factors and make the decision themselves. Post clear signage at all entrances with screening questions and instructions. If active screening of patrons entering a facility is not possible (for example, public transit, grocery stores), post signage instructing people with symptoms not to enter. Note: for retail stores, screening is only required at entrance to shopping malls, and not individual stores.
Active screening: an employer ensures that the information is collected and reviewed to determine whether a person may enter the workplace. Actively screen staff using the COVID-19 Screening Tool for Workplaces. This includes workers, volunteers, suppliers, and contractors.
Post signage at entrances and throughout the building that clearly communicate procedures for physical distancing between staff and users/visitors. This include posters and floor markings such as instructional tape/stickers that direct the flow of people waiting for services, including any outdoor waiting areas. Examples of signage can be found in the Resources & Signage section of the WECHU website.
Collect contact information from all patrons who enter the facility (name, contact information, dates and times). These records must comply with privacy requirements and could support case and contact tracing by the local public health unit in the event of an outbreak.
Post signage to communicate entry procedures such as hand sanitizing, sneeze and cough etiquette, wearing of cloth masks, and/or screening for symptoms.
Ensure employees are aware of common COVID-19 symptoms and in addition to active screening upon arrival instruct them to complete a daily provincial screening tool for workplaces before reporting to work.
Provide training to employees on effective hand hygiene practices and if required, the proper way to put on and remove PPE such as masks, face shields, gowns, and gloves.
Physical Distancing
Complete any needed modifications in areas where there will be staff and/or customers, to assist with physical distancing and proper cleaning and disinfection. For example:
Install Plexiglas barriers at check-outs and/or between workers who must work in close
proximity to each other.
Providing additional garbage bins for safe disposal of used masks and gloves, tissues, and paper towels.
Where the reception area is small and a physical distance of 2 metres cannot be
maintained between clients, eliminate the reception and waiting area. Clients should be
encouraged to wait in vehicles or outside until it is time for their appointment. Ask the
clients to call to see if it is safe to enter the building before entering for their appointment.
Ensure workstations in use are separated by at least 2 metres.
Consider moving shelves, furniture, or tables inside the salon to create space between staff and clients.
Remove magazines and multi-use materials from waiting areas.
Avoid distributing snacks, beverages, or testers of product samples to customers or clients.
General Cleaning and Disinfecting
Ensure hand washing facilities are available and in good working order.
Ensure there is always sufficient supply of approved disinfecting solution or wipes, and an alcohol-based hand rub (hand sanitizer) with a minimum of 60% alcohol content, liquid hand soap, and paper towels. These should be easily accessible to employees.
Schedule at least 15 minutes between clients to allow for cleaning and disinfection of workstations.
Where possible, switch to single-use items such as disposable capes, aprons and towels. If not possible, provide each client with clean items. Be sure to disinfect or launder re-usable items between clients. Items designed as single-use only MUST be discarded in a lined garbage bin after each use.
Ensure disposable covers are discarded immediately after use and that chairs, headrests, armrests, squeeze bottles, are cleaned and disinfected between clients.
Dirty towels and linens must be placed in a lined bin, washed in a washing machine with
detergent and hot water, and dried in a dryer to kill as much virus as possible. Laundry
baskets and re-usable bags should be sanitized each time and should not be used to store clean towels and capes.
Clients should avoid touching multi-use supplies, such as nail polish, when selecting
colours.
Ensure proper cleaning and disinfection of reusable tools. Clean low-risk tools by brushing them vigorously with soap and warm water, disinfect with a low-level disinfectant and allow to air dry. Follow proper cleaning and disinfection procedures for tools depending on their level of risk. Ensure you have at least two sets of tools and brushes so you can alternate tool sets in between cleaning and disinfecting.
Additional Resources
Government of Ontario
Workplace Safety & Prevention Services
Related Content:
Last modified:
Tuesday, February 16, 2021 - 12:00pm