News Release: Shining a Red Light for World TB Day
News Release: Shining a Red Light for World TB Day
Main Page Content
For Immediate Release
Thursday, March 24, 2022 | 10:00 a.m. | Windsor and Essex County
---
World TB Day is observed on the 24th of March each year, as an opportunity to raise awareness of tuberculosis (TB) worldwide and to support prevention, treatment, and control. This evening, the Windsor-Essex County Health Unit's (WECHU) building at 1005 Ouellette Ave. will be lighting up in red support all individuals affected by TB and the many efforts to prevent and cure TB worldwide.
TB still remains a serious problem throughout the world. The World Health Organization estimates that in 2020, 10 million people fell ill with TB and 1.5 million people worldwide died of TB.  In 2021 in Windsor-Essex, there were 10 people who became sick with active TB disease and 150 people who were recognized to have asymptomatic (latent) TB infections.   Regardless of active or latent TB infection, the key to preventing the spread of TB is screening and treatment.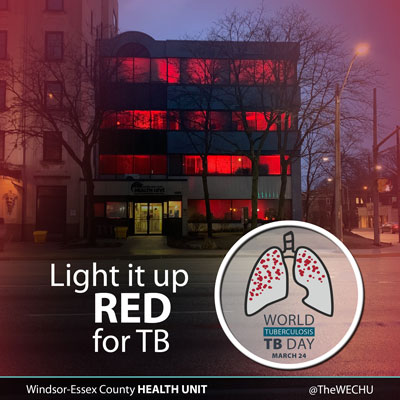 Download Image
Anyone can contract TB; however, some individuals are more at risk and should be tested. Those at increased risk for TB infection include any person who has had contact with someone with active TB, people who were born in or travel to countries with high rates of TB, people living in congregate settings, and persons who are immunocompromised including those with HIV. Dr. Shanker Nesathurai, Acting Medical Officer of Health at the WECHU notes, "TB can be prevented and treated.  WECHU is committed to reducing the burden of infectious diseases.  Raising awareness is important to the public health mission.
For more information on TB, visit the Windsor-Essex County Health Unit website or call the Infectious Disease Helpline at 519-258-2146 ext. 1420.
Related Content