No Barriers Health Equity For All: Toolkit & Practical Guide for Health and Community Service Providers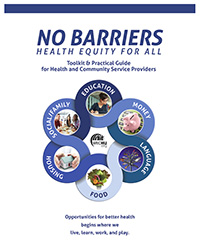 Opportunities for better health begins where we live, learn, work, and play.
Use these evidence-informed tools & resources to help you:
Better understand how addressing the social determinants of health and working towards health equity benefits the health and wellness of individuals and our community.
Identify intended/unintended impacts on health that policies, programs, services, and initiatives may have on specific population groups.
Engage in planning, development, implementation, and evaluation of programs, services, policies, and initiatives through a health equity lens.
Effectively communicate key messages using inclusive language.
This toolkit has been developed to assist decision-makers, program planners, service providers, and front-line staff in their work to improve the health and wellness of individuals and communities. Content is laid out to first establish a strong foundation of understanding and comprehension about the concepts of health equity and the social determinants of health.
Then, practical tools, resources, and methods are provided to support translating knowledge into evidence-informed action. It is recommended to review the entire toolkit from beginning to end at least once to strengthen understanding for the factors and contexts that influence the health of individuals and populations. Then, specific sections and resources can be referenced as needed depending on the focus of work.
For your convenience, we have also developed an editable Word document containing the modified Health Equity Impact Assessment (HEIA) Cover Page and Template from our Toolkit. This resource was adapted with permission from the Ministry of Health and Long-Term Care.