Emergency Preparedness
Emergency Preparedness
Main Page Content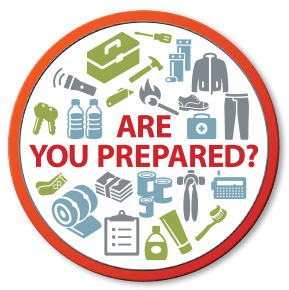 Are You Prepared?
You may not be able to predict when a disaster will happen, but there are ways you can reduce the impact of any emergency you might face.
You can become better prepared to face a range of emergencies by taking a few simple steps:
1. Know the Risks
Knowing the risks specific to your community and your region can help you to be better prepared for an emergency. In Windsor and Essex County, some of the disasters that are most likely to occur include: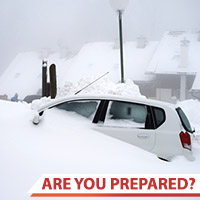 2. Make a Plan
Your family may not be together when an emergency occurs. Having a plan will help you and your family know what to do. Once you have a plan, regularly review and practice it. Also, make sure that all family members carry a copy of the plan in their wallet, purse, or backpack. The plan should also be in your 72 Hour Emergency Kit.
Make sure your plan includes:
Contact information for everyone in the household, including work and school phone numbers
A list of important phone numbers, including doctors, emergency services, insurance companies, and utilities
The name and phone number of an out-of-town contact person
Safe exit routes from your home
A designated meeting spot outside your home and one outside your neighbourhood in case you need to leave the area
Evacuation routes from your neighbourhood
Also find out school or daycare policies for releasing your children to a designated person if you can't pick them up.
Your plan should also include pets and any special health or accessibility needs in your family.
3. Prepare a 72 Hour Emergency Kit
During an emergency, you may need to go without power or tap water. It is important to be able to be self-sufficient for at least 72 hours in an emergency. Some of the supplies that are needed include:
Water (2 litres/person/day)
Non-perishable food (e.g., canned food, energy bars, dried food)
Manual can opener
First aid kit
Prescription drugs
Personal hygiene items (e.g., toilet paper, feminine supplies, plastic garbage bags, hand sanitizer)
Basic tools (e.g., whistle, duct tape, pocket knife, adjustable wrench, screwdrivers, pliers, hammer)
Radio (crank or battery)
Extra keys to car and house
Cash (include smaller bills and change)
Copies of important documents (e.g., emergency plan with contact phone numbers, passports, insurance policies, wills, immunization records, banking information)
Clothing and footwear
Blankets or sleeping bags
Candles, and lighter or matches (windproof/waterproof matches or in a waterproof container)
Flashlight (crank or battery) and extra batteries
Additional supplies such as pet food and extra water should also be included if you have pets
For families with infants under 6 months of age:
Infants who are exclusively breastfed do not require any additional feeding items in their kits
Infants receiving breastmilk substitutes (formula) should include breastmilk substitutes, bottles, and sterilizing equipment in their emergency kits. Breastmilk substitutes expire so they will need to be replaced on a regular basis.
Your kit should be kept in a backpack or a suitcase with wheels so that it is easy to carry. Make sure that it is in an easy to reach place and that everyone in the house knows where it is kept.
More information can be found at:
4. Stay Informed
It is important to stay informed during an emergency. There are many ways to receive emergency information including:
Mail and hand-delivered information
Telephone or email
Internet and social media (follow your local municipality, health unit, fire and police services on Facebook and Twitter)
Local television stations (CBC Windsor, CTV Windsor)
Local radio stations
Members of your community
Be sure to share any emergency information you receive with your friends, neighbours and family.
Turn your radio/TV on!
During any emergency situation, authorities will immediately contact all local radio stations. To receive information, residents should immediately turn on battery/crank-operated radios and tune into:
Radio
CBEF 540 AM
CBEF 105.5 FM
CKWW 580 AM
CKLW 800 AM
CBC 1550 AM
CBC 97.5 FM
CIMX 88.7 FM
CJAM 99.1 FM
CIDR 93.9 FM
CHYR 96.7 FM
CJWF 95.9 FM
CJSP 92.7 FM
CKUE 100.7 FM
Television
CBC Channel 9 (Cable 10)
CTV (Cable 6)
COGECO Cable Channel 10 (Cable 11)
Police, Fire, Ambulance: 911
Community and social services: 211
Non-Emergency Windsor City Services: 311
Local Emergency Contact Numbers:
Poison Treatment Centre: 1-800-268-9017
Spills Action Centre: 1-800-268-6060
Windsor-Essex County Health Unit: (519) 258-2146
Hydro One: 1-800-787-4295
EnWin Power: (519) 255-2727, 8:30 a.m. to 4:30 p.m.
After-hours hydro service: (519) 255-7818
After-hours water service: (519) 255-7130
Union Gas: 1-877-969-0999
Windsor Police Services General Inquiries: (519) 258-6111
Police Headquarters: (519) 255-6700
Crime Stoppers: 1-800-222-8477
Marine and Air Search and Rescue: 1-800-222-8477
TeleHealth Ontario: 1-866-797-0000
Canadian Red Cross: 1-866-797-0000, (519) 944-8144